You need a sander for home DIY or hobby reasons. Do you need a belt disc sander? Probably. A disc belt sander designed for a benchtop is a rugged and sturdy sanding machine built to last, a hard-working partner that provides plenty of machine-power and better control than hand-sanding alone, helping you achieve great results on bigger than average sanding projects with ease.
Millions of Americans love DIY, and take great pride in their professional home-making and maintenance skills. Which is why the not-so-humble benchtop sander is such a popular buy, the heart of many a home workshop. While a bench top sander isn't anywhere near as portable as a hand held machine, it offers a whole lot more power as well as extra versatility. The most versatile of all include an integral belt and disc, both built into a single sander, and you'd be surprised at exactly how much you can achieve with one.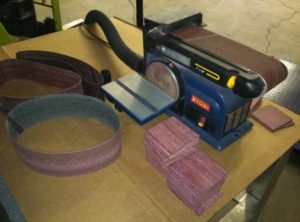 Higher grade, more costly sanders are a your best bet if you tend to work or want to start working with bigger chunks of material or you'll be doing a lot of hard sanding work. Hand held versions are your best bet for the fine completing of a finished product, also perfect for cleaning up a completed job. But a benchtop sander makes much more sense for heavy duty projects with their extra power and larger surface area.
As a rule the bigegr and more powerful the motor, the more materials you can sand. More than simply wood. Metals as strong as steel, plastics, even stone can be sanded as long as you choose an adequate heavy grit paper and a good quality benchtop sander.
Pick The Right Benchtop Belt Disc Sander – Table Top Or Free Standing?
The benchtop sander comes in two versions, either a free standing unit or designed to be attached as a table top unit. Most home owners find that a good quality table top unit will deliver the power and versatility you need for domestic projects.
Free-standing sanding tools tend to cost more, and they are also fine to use heavier grades of sandpaper with. But you'll only need one of these monsters if your projects tend to be large, or are commercial. ,It's good to know that a regular table top sander should easily be man enough for the job in most cases, most of the time.
Using A Bench Belt Sander
Benchtop sanders are a common sight in home and professional workshops. Unlike many big power tools they are relatively easy to use, which is great news if you are a beginner. If you're an experienced user, either a handyman or hobbyist, carpenter or construction worker, you'll find yours incredibly handy for everything from creating your own wooden furniture, in fact for more or less any wood-based project.
Don't worry if you only have a small space to work in. Part of the appeal of benchtop sanders is their neat size, small enough to fit in most home workshops and compact enough to carry to a separate job site if you need to.
What's their primary use? Bench top sanders are mostly harnessed for the early stages of the sanding process, when there's rough work to be done or a lot to take off. They are also widely used when people want to remove tough stuff like paints and stains from wood as well as for building, finishing and and re-finishing furniture. If you work with wood frequently, it could prove one of the best time-saving, effort-conserving, sanity-saving buys you ever make.
Enjoy An Easier Life – The Benefits of a Good Quality Disc Belt Sander
Get big sanding jobs done faster
Take off a lot more wood than you could possibly handle by hand
Save your hands and back from repetitive strain injuries and tiredness
Do a smoother, better job, letting the tool do most of the hard work for you
Our Best Benchtop Electric Sander Buying Tips
What makes a really good benchtop sander? It actually depends on the main purpose you intend to use it for, although as a general rule the more you pay, the better the machine. Pay peanuts and you will probably end up with a monkey!
How do you decide what's important and what isn't when buying? There are several elements to take into account. Your first port of call involves the belts and how adjustable they are. You need to find out whether you can easily and safely tilt them to your project specifications. On the other hand would you be OK with a sander that comes with a stationery belt drive? It depends, again, on the purpose you'll be using it for.
A tilt-able belt means you enjoy lots more flexibility, vital when doing stuff like rounding off edges and carrying out other types of detailed work. Some benchtop sander belts can easily tilt as much as ninety degrees. This is brilliant because it lets you achieve a detailed finish and tackle the underneath of a project with ease. It's also more comfy to grip, which enhances its safety compared with a sander that's difficult to grip and keep control of. And there's less bending and twisting to do, which can damage your back.
The bench top sander base is also vital when establishing the performance levels. Machines come complete with different types of bases, designed to provide a variety of different supports and weights to the machine. As you can imagine, a cast iron base is the strongest of all, and prevents the heavy vibrations which can cause vibration-induced injuries like 'white finger'.
It also matters how much power you need, which in turn is down to the motor size. The power is measured by RPMs, revs per minute. The more revs per minute, the more aggressive and powerful the results of your sanding job will be. Just bear in mind that a benchtop sander with lower RPMs will rotate more slowly, therefore work better with smaller projects. High RPMs mean better success with bigger projects, plus the advantage of heavier sandpaper grit for much deeper sanding.
Some machines have a tension release lever. This is designed to provide simple changes to your sandpaper grit, and makes things a whole lot easier.
Last but not least, weight is always a consideration. The most powerful sanders have big, heavy motors and weigh more. It depends whether you are more likely to carry the machine around with you or work from one place.
Three Particularly Popular Bench Top Disk Sander Buys
The Brilliant JET J-41002 3/4-Horsepower Bench Belt and 8-Inch Disc Sander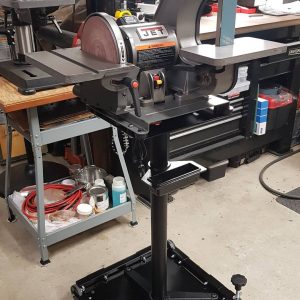 This beast of a desktop sander comes with a cool deluxe miter gauge that turns and locks for common angles, both left and right at 45 degrees. There's a hinged idler wheel cover and a handy tilting table. The machine's superb abrasive belt unit acts like a jig saw, coping saw, or hand file and the clever design lets you access small openings as well as handle odd shapes and angles with confidence. This great machine lets you grind, sand and finish large items on the disc unit quickly and well, since the table is slotted to accept the miter gauge with ease. Top job!
The Awesome POWERTEC BD1500 Wood Working Belt Disc Sander
It's powerful. Very powerful. And thanks to the powerful 1/3HP Induction motor this exceptional machine is known for its reliable performance. It comes with two separate dust ports for excellent dust collection, plus work tables that go to a full 45 degrees with a miter gauge for precision angles. There's cool tracking adjustment tech designed to keep the belt running true and the removable back plate for the sanding belt and idler roller guard is included.
The Highly-rated Rockwell RK7866 Belt Disc Sander
A versatile belt platform that can adjust from 0 to 90 degrees, perfect for horizontal and vertical sanding. An adjustable sanding table that goes from 0 to 45 degrees, exactly what you need to effectively sand beveled edges. A rugged 4.3 Amp heavy duty induction motor means truly dependable performance under all manner of circumstances. And the special quick-release belt tension lever makes changing your belts as easy as pie. Nice.
Do You Need a Benchtop Sander? Yes, you do!
Anyone who works regularly with wood, sands a lot, works in construction, is a keen DIYer or just prefers to expend as little energy as possible but still do a really good job, you need one of these handy gadgets. Give your workbench a treat!